Various systems for water treatment :
Whether it is rainwater or from wells and drilling – even to provide sterilization complementary to the water of a public network.
For small and medium flows.
Disinfection capacity of 60 liters / hour (reverse osmosis) up to 1000 liters / hour (Ultrafiltration) depending on the water to be treated
Reverse osmosis
Instant flow: 60 liters / hour
Inlet / outlet: 1/2 "NPT female.
Voltage: 220VAC; 50hz
Consumption: 140Watts (max.)
Discharge of water: 50-50%
Feed water requirements: 5 liters / minute to 1bar
A 25 micron sediment filter, "2.5×20" cartridge.
A 5 micron activated carbon block filter, "2.5×20" cartridge.
A 1-micron sediment filter, "2.5×20" cartridge.
Booster pump, 24VDC; 6A
A low-pressure switch
Three TFC R.O membranes, 2.5 "x12"
A water supply solenoid valve, 24VDC
Rinsing solenoid valve, 24VDC
A concentrate valve
A recycling valve
Water pressure gauges
24 VDC power supply
Painted steel structure.
81x45x21cm
* VAT not included
Depending on the country, VAT is added automatically when entering the order.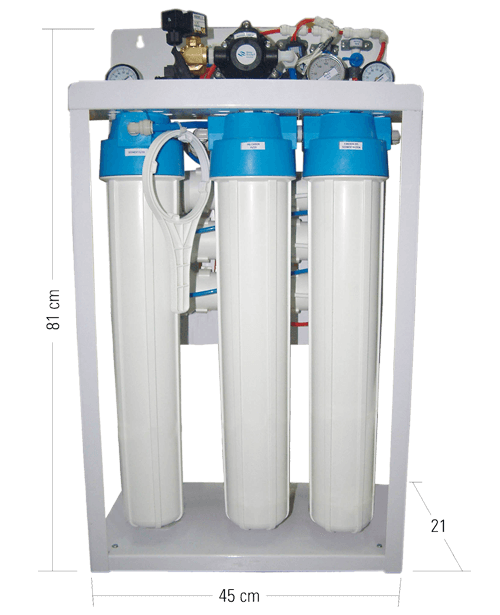 Disinfection of water by uv and ecologic ecological ozone a reference of efficiency and quality for drinking water and the treatment of SPA pools the system is equipped with a device of désozonation
The Ultra-Bio-Ozone® Water Treatment System
is effective because it combines UV and Ozone.
Two completely different processes, working in tandem for disinfection and
biological sterilization of complete water of high quality,
without chlorine or chemicals.
Mail
contact@water-solution.ch
Address
Ultra-Bio-Ozone® Suisse
AVI Swiss Group SA
Rue de la Gare 36
2012 Auvernier
Suisse